Windows are an essential part of your home. They provide light and views, while also offering access to fresh air, ventilation and, ideally, a good level of safety from intruders if done right.
A high performance window is the most important piece of the puzzle when it comes to building energy efficient homes. Saving on the cost of windows by settling for a cheap solution that doesn't provide proper airtightness and thermal insulation will bite you in the long run — people often underestimate the heat loss potential of inferior windows. Because they are a long term investment, the cost of a high performance window will be returned in energy savings and an overall improved indoor climate.
Here are our options:
Better Windows Make Better Homes
Unilux offers extraordinarily well built windows, exterior doors and facade systems. Key features are triple glazing, exceptional airtightness and energy efficiency.
Unilux provides European style turn-tilt windows, lift+slide doors, folding doors and pocket sliding doors, in wood and vinyl versions, with optional aluminum cladding for greater durability.
Good news! Glass panel sizes up to 100 sq.ft. are possible with UNILUX.
evoDOMUS are the sales representatives for Ohio and Western Pennsylvania for UNILUX window and facade systems.
Available in a variety of durable wood types: Oak, Alder, Pine, Larch, and Exotic wood.
Unilux offers 20 transparent or semi-transparent finishes and 192 paint finishes from the RAL, DB and NCS palettes.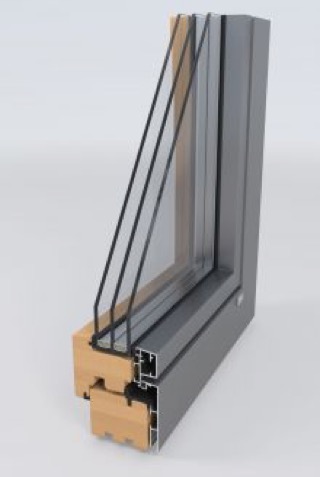 Wood Windows
Aluminum Clad
Similar options to wood windows, but with several aluminum cladding profiles to match your personal style and provide great durability.
Vinyl windows have steel reinforcements for greater stability.
Available in a huge variety of colors and wood foil patterns.
Vinyl Windows
Aluminum Clad
Similar options to vinyl windows, aluminum clad for even greater durability
UNILUX FINE LINE FACADE SYSTEM
Facade Systems
Modern day architects want more glass and less window frame. Thankfully, our Fine Line facade system was created to make their dreams a reality.
Available in any of our five wood species on the interior, Fine Line window walls are fully customizable and have incredible capabilities. The technology behind Fine Line is impressive; our unique fastening system is completely hidden. Tell us your requirements and UNILUX's in-house engineers will design a system to handle just about any situation.
Exterior aluminum beauty caps protect the system from the elements and are offered in a wide variety of profiles, meaning that there is something for any architectural style. Additionally, interior posts and crossbars are available in various sizes and shapes, suited to any homeowner's wishes.
The UNILUX engineering department is capable of designing an individual system that offers slim lines utilizing the latest glazing technologies. With the Clima Protect insulating profile, Unilux Fine Line is able to meet Passive House performance standards, with a choice of either double or triple glazing up to 48mm in depth.
Lastly, UNILUX Fine Line facade accepts window and door inserts. Want venting options or a double door in the middle of your shop front? This can easily be achieved with our custom door and window inserts.
Fine Line – don't take no for an answer.
weather shield window system
Sophisticated styling. Sleek lines.
Stunning simplicity.
Weather Shield's Contemporary windows and doors have a seamless, modern aesthetic and have been flawlessly engineered and painstakingly crafted for those who reject compromise. This innovative and exceptional collection is intended specifically to enhance the expansive views from custom, high-end homes.
When your goal is to explore the boundaries of architecture, these windows and doors are up to the challenge. From the sightlines to the finishes and hardware, we've considered every element of design to achieve a true contemporary, minimalist appearance. Developed in collaboration with architects and interior designers, this collection brings a bold and modern aesthetic to the residential market.
evoDOMUS proudly sells Weather Shield windows to builders and home owners.