Windows are an essential part of your home. They provide light and views, while also offering access to fresh air, ventilation and, ideally, a good level of safety from intruders if done right.
A high performance window is the most important piece of the puzzle when it comes to building energy efficient homes. Saving on the cost of windows by settling for a cheap solution that doesn't provide proper airtightness and thermal insulation will bite you in the long run — people often underestimate the heat loss potential of inferior windows. Because they are a long term investment, the cost of a high performance window will be returned in energy savings and an overall improved indoor climate.
Here are our options:
Better Windows Make Better Homes
Unilux offers extraordinarily well built windows, exterior doors and facade systems. Key features are triple glazing, exceptional airtightness and energy efficiency.
Unilux provides European style turn-tilt windows, lift+slide doors, folding doors and pocket sliding doors, in wood and vinyl versions, with optional aluminum cladding for greater durability.
Good news! Glass panel sizes up to 100 sq.ft. are possible with UNILUX.
evoDOMUS are the sales representatives for Ohio and Western Pennsylvania for UNILUX window and facade systems.
Available in a variety of durable wood types: Oak, Alder, Pine, Larch, and Exotic wood.
Unilux offers 20 transparent or semi-transparent finishes and 192 paint finishes from the RAL, DB and NCS palettes.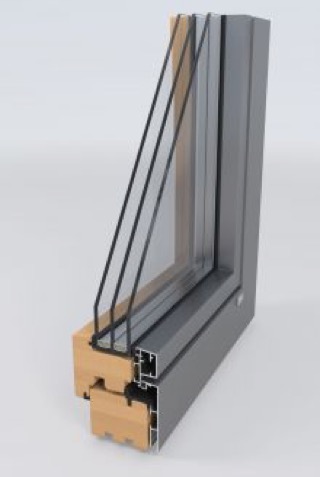 Wood Windows
Aluminum Clad
Similar options to wood windows, but with several aluminum cladding profiles to match your personal style and provide great durability.
Vinyl windows have steel reinforcements for greater stability.
Available in a huge variety of colors and wood foil patterns.
Vinyl Windows
Aluminum Clad
Similar options to vinyl windows, aluminum clad for even greater durability
UNILUX FINE LINE FACADE SYSTEM
Facade Systems
Modern day architects want more glass and less window frame. Thankfully, our Fine Line facade system was created to make their dreams a reality.
Available in any of our five wood species on the interior, Fine Line window walls are fully customizable and have incredible capabilities. The technology behind Fine Line is impressive; our unique fastening system is completely hidden. Tell us your requirements and UNILUX's in-house engineers will design a system to handle just about any situation.
Exterior aluminum beauty caps protect the system from the elements and are offered in a wide variety of profiles, meaning that there is something for any architectural style. Additionally, interior posts and crossbars are available in various sizes and shapes, suited to any homeowner's wishes.
The UNILUX engineering department is capable of designing an individual system that offers slim lines utilizing the latest glazing technologies. With the Clima Protect insulating profile, Unilux Fine Line is able to meet Passive House performance standards, with a choice of either double or triple glazing up to 48mm in depth.
Lastly, UNILUX Fine Line facade accepts window and door inserts. Want venting options or a double door in the middle of your shop front? This can easily be achieved with our custom door and window inserts.
Fine Line – don't take no for an answer.
weather shield window system
Sophisticated styling. Sleek lines.
Stunning simplicity.
Weather Shield's Contemporary windows and doors have a seamless, modern aesthetic and have been flawlessly engineered and painstakingly crafted for those who reject compromise. This innovative and exceptional collection is intended specifically to enhance the expansive views from custom, high-end homes.
When your goal is to explore the boundaries of architecture, these windows and doors are up to the challenge. From the sightlines to the finishes and hardware, we've considered every element of design to achieve a true contemporary, minimalist appearance. Developed in collaboration with architects and interior designers, this collection brings a bold and modern aesthetic to the residential market.
evoDOMUS proudly sells Weather Shield windows to builders and home owners.
European-style modern kitchens
Designed by our experienced team of kitchen experts and designers, our kitchens combine great quality with stunning aesthetics and functionality. In new homes or remodeling jobs - we're happy to help.
Eclipse Full-Access Cabinetry
Eclipse is built with a unique, full-access frameless construction inspired by European cabinetry. With it, you can obtain a sleek and modern interior, or the transitional look you've always dreamed of, and thanks to the full-access construction, you gain up to 10% more interior space than with framed cabinets. The cabinets are built in facilities which use the latest in equipment technology engineered to offer precision, durability, and maximum material utilization.
Eclipse offers an impressive array of traditional and contemporary styling options. Timeless solid hardwood, textured thermally-fused laminate, high-pressure laminate (gloss and matte) and wood veneer doors make Eclipse Cabinetry the choice for value- and style-conscious homeowners. You can achieve the look you want with a full spectrum of custom options and functional components.
At evoDOMUS, we use Eclipse kitchens in our modular homes. We also offer them through our Kitchen Studio for home builders, homeowners or remodeling jobs.
MODERN ITALIAN KITCHEN CABINETRY
A tradition that lasts and has been growing since 1946. Maistri was originally a small family-run carpenter's shop in the heart of Valpolicella region. It has been flourishing ever since as a high quality brand, making a name for itself thanks to its competence and skill, its customer focused performance and the use of only high quality raw materials. For over 30 years Maistri has been manufacturing kitchens in its 45,000 square meter industrial plant with a completely automated production system that ensures high quality manufacturing standards as well as effective customer service, without sacrificing flexibility and speed in production. This makes Maistri one of the leading companies in the Italian market, continually expanding in Europe and worldwide. Their strengths include the continuous innovation of product lines, materials and models, which allows creativity in furnishing programs in order to give the best interpretation to the most contemporary lifestyles and trends. Today the historic company is run by ASSO S.p.A., a firm based near Verona that specializes in the production of first-class furnishings.
At evoDOMUS we sell the Maistri line through our Kitchen Studio for home builders, homeowners, or remodeling jobs.
evoDOMUS is an Elite Retailer for the Cosentino products Silestone® and Dekton®
Silestone is a quartz material for kitchen countertops. It is 93% natural quartz, making it exceptionally hard and resilient. It is the first and only quartz worktop with anti-bacterial protection, giving it hygienic properties that are unique on the market. It is the perfect material for applications in kitchens and bathrooms, as well as for laboratories, hospitals, hotels, restaurants and other professional uses where minimal joins are required.
Silestone® allows new concepts and spaces to be created with cutting edge design thanks to its wide range of colors and finishes, and its durability and flexibility. It is the market leader globally, with the biggest share of quartz worktops for kitchens as well as bathroom surfaces.
Dekton Solutions
Dekton is a sophisticated mixture of the raw materials used in the production of glass, latest-generation porcelain tiles and quartz surfaces. It is a new and innovative material that is paving the way for the future of surfaces for architecture and design.
Exclusive Particle Sintering Technology is used to create Dekton. This is a technological process that is an accelerated version of the metamorphic changes that natural stone undergoes through exposure to high pressure and high temperatures over thousands of years. Dekton's excellent mechanical properties offer infinite design and manufacturing possibilities (it can be manufactured in large formats — up to 10'-6" x 4'-8"), making it perfect for both indoor and outdoor use. Dekton is an ideal material for kitchens, bathrooms, facades, wall cladding, and high traffic floor areas.
Siding, decks and wood flooring -
timura is our brand of choice
WOOD THAT IS INSTALLED OUTDOORS NEEDS TO BE PARTICULARLY RESISTANT.
For wood to retain its appeal outdoors in the long term, it should be certified to durability class 1 or 2. Such woods include tropical woods grown naturally and not sourced from plantations, as well as native woods that have undergone technical processing.
Wood is a natural product and, like human skin, it is subject to an ageing process. When exposed to the elements it may change in appearance, and cracks and deformations may develop. These adverse effects can be prevented or minimized by maintenance.
timura uses an innovative thermal treatment process to refine native woods to produce thermo wood certified to durability class 1 and 2. These woods give you the feel-good factor of wood both indoors and outdoors.
THE ADVANTAGES OF THERMO WOOD:
Native woods with the durability of tropical wood

Better dimensional stability than tropical wood

Long service life, but low maintenance

Wide range of colors, structures and surfaces

The same look can be achieved both inside and out